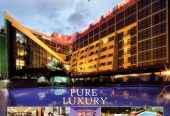 A 2-minute walk from Laboni Beach, this modern hotel is 3 km from Cox's Bazar, a sprawling stretch of beach, and 10 km from Himchori Waterfall.
Contemporary rooms come with minibars, Wi-Fi and flat-screen TVs. Upgraded rooms have balconies, sitting areas and/or sea views. Suites add living rooms.
Breakfast is served in a stylish buffet restaurant. There's also a BBQ restaurant with a terrace. Other amenities include an outdoor pool and hot tub, a spa, a gym and 2 pool tables.
Pool
Spa
Beach access
Breakfast Complementary
Gym
Restaurant
24-hour front desk
Free Wifi
Free Car Parking
Business Hours
We are currently open.
Open
Close
Saturday
Open (24 Hours)
Sunday
Open (24 Hours)
Monday
Open (24 Hours)
Tuesday
Open (24 Hours)
Wednesday
Open Today (24 Hours)
Thursday
Open (24 Hours)
Friday
Open (24 Hours)