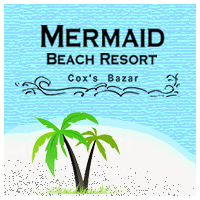 Mermaid Beach Resort is approximately 16 kilometres or 9.94 miles south of Cox's Bazar, Bangladesh. An excellent Marine Drive provides for a 20 minutes drive. Mermaid Beach Resort is located in the quiet area of Pechardwip, Marine Drive Road, Cox's Bazar. Set amongst 4.86 hectares or 12 acres of land, facing the world's most longest Beach, we offer 8 one-bedroom Beach Bungalows, 4 Mermaid Suites, 10 One bedroom Beach Villa's including 3 Family Beach Villa's, 5 private pool suites and 1 Beach Villa with a living room with Jacuzzi. Guestrooms offer eco-friendly designs adhering to a renowned responsibility to the environment and the Mermaid philosophy of Redefining Experiences. Dining options include The Restaurant serving a daily International breakfast buffet. Restaurants are opened for lunch, dinner and serve Mediterranean cuisine with a strong Italian influence. Mermaid Spa offers a truly relaxing and revitalizing experience with therapeutic and pampering treatments to balance the senses. Free wifi is available in all guests rooms and public areas.
Free parking
Free High Speed Internet (WiFi)
Pool
Fitness Center with Gym / Workout Room
Free breakfast
Beach
Badminton/Children Activities
Room features
Air conditioning
Private beach
Desk
Housekeeping
Coffee / tea maker/ Minibar
Cable / satellite TV
Bath / shower
Business Hours
We are currently open.
Open
Close
Saturday
Open (24 Hours)
Sunday
Open (24 Hours)
Monday
Open Today (24 Hours)
Tuesday
Open (24 Hours)
Wednesday
Open (24 Hours)
Thursday
Open (24 Hours)
Friday
Open (24 Hours)